Guest book improvement list: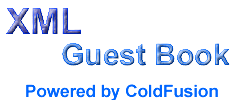 Add preview button
Add ability to go to the last page/first page of the guest book
Add support for images that show user emotions (smilies)
Add support for custom fields that can be added by the end user to the guest book. In fact make all fields fully editable.
More reboust filter of banned words
More reboust filter of banned IPs (include ranges of ips)
Add HTML support inside user message (possibly only limited one, with use of "[" and "]" instead of < and >)
Add ability to enable or disable html support
Encode user E-mail so it is harder to steal it for illegitimate purpose of spam
Add ability to send private messages to guest book owner (enable/ disable this option)
Add spell checker
Multinational support
Support for mederated guest book
Spam killer using images (say 25 or 50 different images) can turn it on or off from admin
Make guest book searchable (can turn on or off this option in admin)
Better validation of e-mail and URL addresses
Let user hide his e-mail address so it can only be seen by the guest book owner
Ability to send personalized thank you notes once end-user signs the guest book
Ability to store e-mail addresses to separate file, for possible mailing list, give users option to agree to it
Build optional Flash interface
Above list is just grouping of rough ideas. It definitely is not final and will change as time progresses. If some of above enhancments make their way to future versions of the product, they will be deleted. It is clear that some additions to the guest book will be rather time consuming, like spell checking. I may not develop these modules on my own, but rather use already existing open source work of others. If I do so, I will grant full credit to the person whose code I used.