About Tom Kitta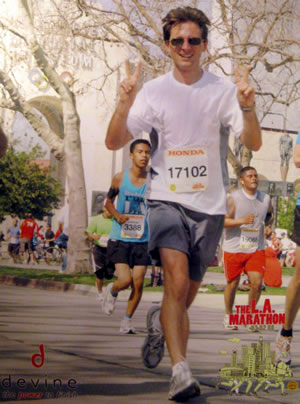 Some of my interests
I am a 42-year-old guy living in Los Angeles (Play Del Rey next to LAX to be more precise), California.
What I do for fun always involves a lot of adventure. Here are few things that I am involved in, I like to anything that involves some physical activity, preferably with some adrenaline mixed in.
Climbing - mostly sport, will go into traditional eventually
Hiking - everything from just a walk in the park to 50 mile day hikes in Grand Canyon
Running - I run few times a week with a mileage of around 20/week. I run LA marathon in 2008 with time of 3:44h
Cycling - I frequently use my bike to get to work and for beach cursing
Mountain biking - need to get into this more as so far I only used my mountain bike as a road bike
White water rafting - done few times as a crew member, fun, through I am finding class 4 a bit easy now, need class 5
Mountaineering - this is one of my fun packed activities, climbed about half of California 14ers so far
Backpacking - I am of average experience level, thanks to my weekend+ hikes
Car camping - have to take a break once in a while from all this running around and have some red wine while enjoying a good company around a fire
Working out - cannot do all of fun outdoor stuff without some shifting of iron few times a week
I am an outdoors enthusiast, however if I am indoors I enjoy the following:
Philosophy - This is by far one of my most cherished interests. Through I don't read a lot of philosophy related books, I like to talk about different concepts that require philosophical thought. In difference to many people as long as you have strong arguments on your side you can win me over. I am very tolerant of other people's views.
History - I am very interested in the history of combat. I read numerous books about WWII and other wars both modern and ancient. I am reading books written by authors on both allied and axis side.
Politics - My interests in politics are mostly related to the extension of Politics by the means of military muscle. For example, I like to point out different fallacies in US foreign policy.
Sciences - I like anything that deals with science. I like to see different, not just IT, technologies being applied to better our lives.
Animals - if a dog is available I take it for a walk - or maybe extended hike, as for a cat I love to play with it. I like all animals, big and small.
Coffee - Well, this is not exactly an interest, but trust me, if you spend so much time sitting on a chair a good cup of coffee is required for your brain to start to process information. Not needed as much when outdoors.