XML Guest Book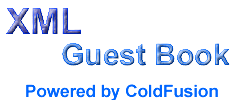 XML Guest Book is a guest book that offers the following futures:
Flexible multi-file XML based data and setup storage
Separation of business logic and presentation allows for quick visual customization by people that are not ColdFusion savvy
Secure administrative area that offers setup for the following futures:

Maximum end-user message-mail, web site, name length
Maximum number of guest book shown per page
List of banned words and banned IP addresses
Two message sorting options

Administrators have the ability to edit and delete guest book entries
Sucurity images (20 different images) that prevent automated insertion of data. New in version 1.1.
Comprehensive documentation and companion web site
Download XML Guest Book NOW (Version 1.1)
To view XML Guest Book demo, please click here. To view Tom's personal guest book click here. To read guest book documentation (also available as part of guest book download) click here.
I also have a list of improvements that I want to implement in version 2 or 3 of XML Guest Book. These enhancements will build on the existing core engine. Many of them are rather easy to do, however, everything takes time. You can see what I am planing in the future releases by clicking here. In the newest release of the guest book I added support for security images that are used to verify the "humanity" of the agent entering the guest book message.
If you want the original verison of the guest book, here is Version 1 download link.